LOTUS CARS WANTED:
From restoration projects to prime examples. Please
contact us
to discuss the sale of your Lotus
1969 Lotus Europa S2 *SOLD*
£SOLD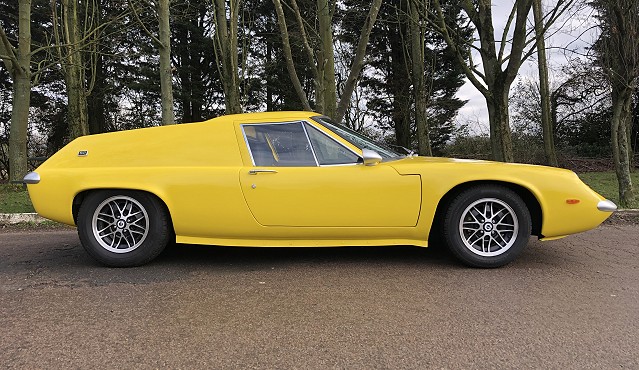 Mileage: 45000
Year: 1969
Transmission type: Manual
Fuel type: Petrol
1969 Lotus Europa finished in Lotus yellow with black interior
This Europa was purchased by its last owner back in 2009 the car had not been on the road for around thirty years . It then underwent a painstaking nut and bolt restoration to a very high standard . There is too much to list here but basically everything was either refurbished or replaced . When the car was stripped it was decided [with the help of Banks Europa] that a Renault five speed gearbox was to be used rather than the standard four speed . Although I still have the standard gearbox which will come with the car . I also have a large file of receipts and a USB stick loaded with pictures of the restoration
After driving a few Europa's I can honestly say this is by far the best one I have driven with decent power and very easy gear change and has got to be one of the best examples available on the market today . The underneath is immaculate and is as good as the outside and interior . The car has now been used on the road for approximately five years and is of course road tax exempt although you can apply for the car to be MOT exempt this has a current MOT certificate that expires at the end of September 2020 .
Any inspection is welcome
Images
1969 Lotus Europa S2 *SOLD*
£SOLD
Mileage: 39000
Year: 1969
Transmission type: manual
Fuel type: petrol
1969 Lotus Europa S2 finished in gold with black interior .This car was purchased back in April by ourselves from a collection of cars along with two Lotus Esprit's.
This Lotus has only had two owners in its life time and the last owner purchased the Europa back in 1977 and the car has only covered 39000 miles so this is a very rare find indeed .
The interior is in amazing time warp condition and you would be pushed to find anything as good as this , the paintwork is very presentable but shows its age in some places .
The chassis is good and we have carried out a lot of recommissioning work to get the car roadworthy and get it through a voluntary MOT, as this car like tax exempt is also now MOT exempt.
The work includes four new tyres, new clutch kit, new Weber carburettor conversion kit,overhaul all brakes including new master cylinder,overhaul the starter motor, replace top ball joints, and a complete service with all belts changed.
This is a very rare chance to own a Lotus Europa S2 in amazing condition it also comes with a large history file and the original owners handbook and original service voucher book .
Any inspection is welcome .
Images